Petraplast
Molly Ritmiller

Imagine the archaeologists of the future, what relics will remain to trace our present history, what might they find amongst our own cherished, fossilized bones? Undoubtedly, plastic: seemingly untouched by time, perfectly good and usable 500+ years into the future. It will be found then as it is now. Currently, our plastic legacy is a sea of littered plastic bags, a layer of plastic forks and spoons left out, accumulating quickly, while forest and ocean ecosystems decline, plastics will outlive us all.

This is a side effect of plastic being geological: it was once fossil fuel, oil, a substance which takes five to ten thousands of years to form deep in the earth's crust. Plastic is built with geological materials, and it runs on geological time.



In our increasingly plastic material legacy, there remains an opportunity to restore our material record, to exemplify care and thoughtfulness for the materials we use. There is time for plastic to take up residence in things which respect its otherworldly indestructibility, its geologic, it is time for the plastics we have already created to find new homes and usefulness: to rewrite our record to be one of resourcefulness rather than wastefulness. As we move towards producing things out of more biological materials, we should still try to clean up the mess we made.

These objects are handmade, crafted, precious objects. They are made of harvested plastics, reclaimed and reformed in order to rewrite plastic as geological, marbled together to restore wasted plastic materials into something cared for.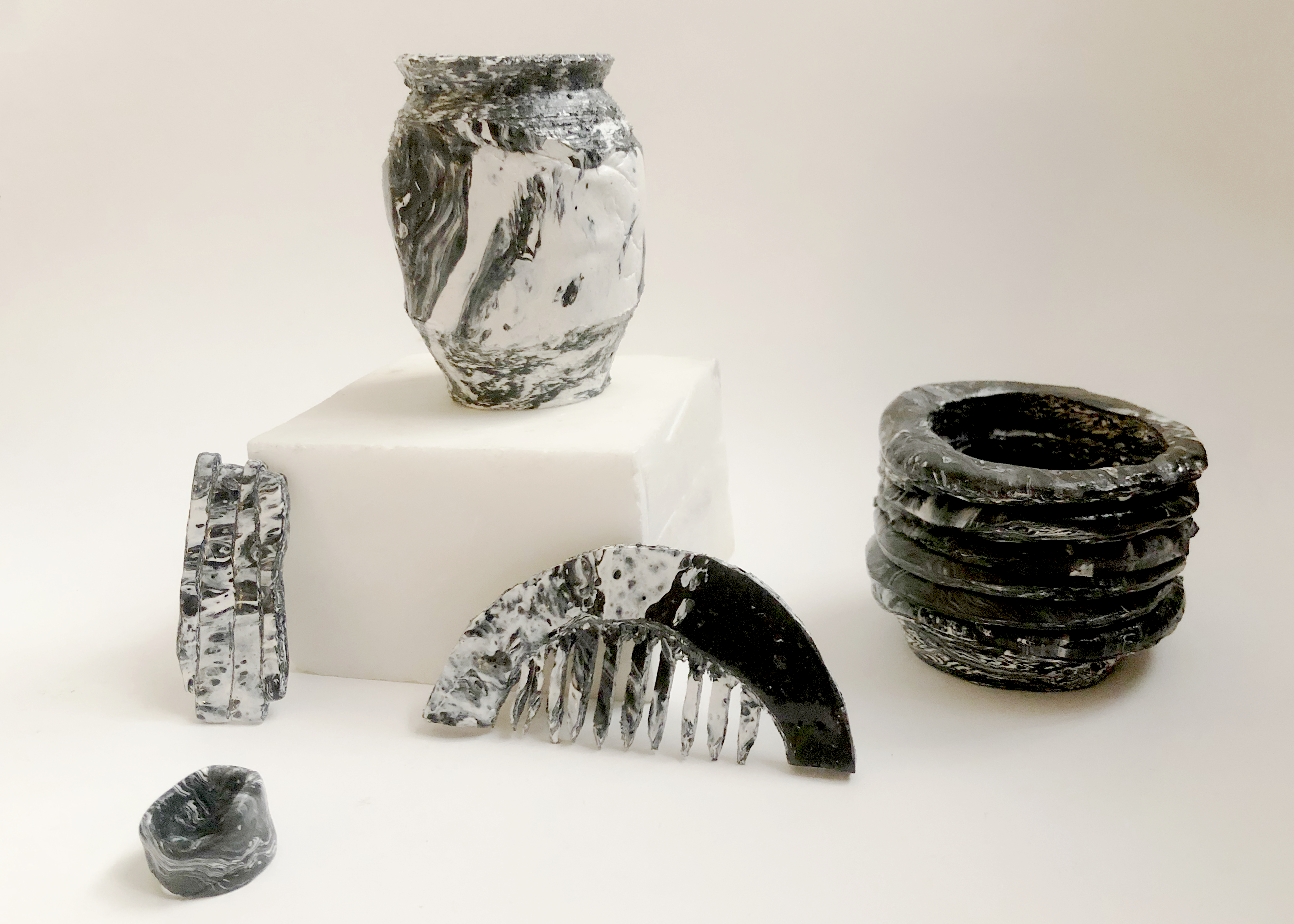 ---
MOLLY RITMILLER
Molly Ritmiller is an interdisciplinary from Baltimore with a wide ranging background and work experience as a teaching artist, photographer, fabricator, chef, research fellow, and a BA in Urban Design & Architecture from NYU. She is currently thinking and writing about what it means to be kin, and looking closely at the knotted web of vital materiality we coexist in, and wholeheartedly recommends the film Babette's Feast.

︎ mllyr.com/
︎ mritmill@pratt.edu